There just is no sense in keeping fish if you are not going to get all the meat off them.  The most single most important variable in a good filet job is your knife.  In this post we are holding the Battle of the Blades, Bubba Blade Filet Knife vs Dexter Filet Knife.  More specifically their 7 inch flexible models.
Not sure which knife to choose? Me neither, we use both. Today, we comparing two of the most well-known brands on the market: Bubba Blade vs. Dexter Knives. 
As an avid fishing family, we love the thrill of reeling in a great fish. We also know that unless you have the proper knife on you, it could go to waste. Let's dive into which knife performs the best and why. 
At a Glance
Before I dive into which part you should add to your knife collection, let me clarify: The exact type of knife you choose will ultimately be a personal decision. You'll have the final say over which features are most important to you and how you prioritize them.
For comparison, I'm going to be looking at the following two blades:
These are both strong contenders, and they offer their own spin on each key feature. If it's a low price and brand recognition you're looking for, then you may prefer Dexter knives. On the other hand, if you value design innovation and safety control, Bubba is the way to go. 
Keep reading this knife guide to learn the most important aspects to consider. 
Blade Composition
When it comes to your go-to fillet knife, the type of blade you choose matters. If it's sharp, sturdy, and durable, it will become a mainstay when you are cutting fish.. 
Here's how these two fillet knives compare.
Bubba Blade
Bubba Blades don't just look great. They're built to do the job. Each one is made of high-carbon steel, and it contains a special feature that sets it apart from some of the competition: flexibility.
On this model, the length is 13 inches including the handle, and the blade is 7 inches. 
When you press a Bubba Blade against a hard surface, you'll find that it bends gently but never breaks. This makes skinning your fish a breeze. As soon as you're finished using it, the shape conforms right back to its original straight edge. 
From there, you can use it for any type of precision cutting you need. The rust-resistant blade is ultra-thin, which allows you to easily maneuver it and remove meat intricately, reducing waste. It cuts through scales like a charm and features a super-sharp tip that makes the first cut easy. 
Dexter Knives
Dexter Fillet Knives are made from a proprietary type of 400-series high-carbon steel that the brand calls DexSteel™. In addition to fishing boats, you'll also find them in some of the most prolific restaurants around the world. The Dexter-Russell brand has been around for more than 100 years and is a leader in the cutlery world. 
Like the Bubba Blade, this blade is also flexible. While it's a little thicker, it forms back to its original shape without issue. These blades are hollow-ground which makes edge maintenance and re-sharpening quick and simple. 
Winner
While both Bubba and Dexter offer sharp, flexible blades, the winner in this category is Bubba. The sharp tip is ideal for slicing into each fish and maneuvering around its tiny parts. 
Handle
You aren't buying a fillet knife for looks. You want to make sure you can actually use it. That's why it's critical to consider how comfortable and flexible the handle is. 
Bubba Blade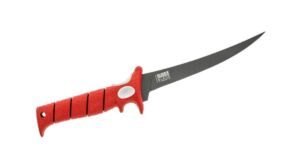 The handle on a Bubba Blade is designed to be cushy and supportive. It's a trigger-style grip that's made out of soft rubber. The non-slip surface is also a dream, especially because you're using it on the water and you're bound to have slick hands. 
You'll enjoy excellent grip security and secure control while using this knife. 
Dexter Knives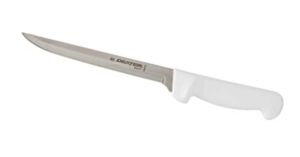 Dexter excels at making great-quality, comfortable knife handles. The one on this model is durable and slip-resistant, made out of rugged polypropylene. It's also considered "sani-safe" which means that it will not harbor bacteria. 
Winner
Both knives offer great handles, but Dexter's wins out due to the added sanitation feature. You don't want to take any risks when working with raw meat. 
Safety
In any type of outdoor sport, safety is a must. Knives and related accessories can be dangerous if they aren't properly used and protected. 
Bubba Blade
The safety features of the Bubba Blade are impressive. This knife comes equipped with safety guards for user protection, designed to keep your fingers away from the blade and the fish's spines. 
There's also an included sheath and belt loop so you can enjoy safe, hands-free carry. 
Dexter Knives
This Dexter knife does not come with an included sheath. However, the handle includes a finger guard to keep you safe while you use it. 
Winner
The safety guards and sheath on the Bubba Blade help it take the win, here. You want the ability to safely transport your knife when it's not in use. 
Price
I can't talk about which fillet knife to choose without discussing price point. You want your fishing habit to add to your life and perhaps even your pocketbook. You don't want it to detract from it. 
If possible, you need a knife that will get the job done but also fit within your budget. When weighing these two options, keep cost in mind. 
Bubba Blade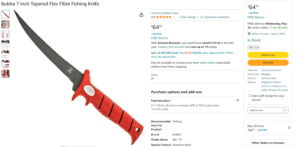 The Bubba Blade 7-inch Tapered Flex Fillet Fishing Knife retails for around $65 on Amazon. 
Dexter Knives

The Dexter P94812 Fillet Knife, 7-Inch, Narrow retails for around $15 on Amazon. 
Winner
If cost is your top concern, then Dexter Knives are the way to go. These are available for less than half of the Bubba Blades, but remember that dollar signs shouldn't be your only concern. 
Bubba Blade vs. Dexter Knives: Which One Is Right For You?
When comparing Bubba Blade vs. Dexter Knives, it's easy to see that each one offers its own special features. Both fillet knives are super-sharp and great at skinning and de-boning fish. However, the safety features of the Bubba Blade, combined with its high-precision design, make it the winner in my book.
While you'll pay more for this model, it will become a staple in your collection. 
Preparing for your next fishing trip? Be sure to follow our Fishing Page for more tips and advice. In the meantime, you can purchase both models above by checking out our affiliate link!