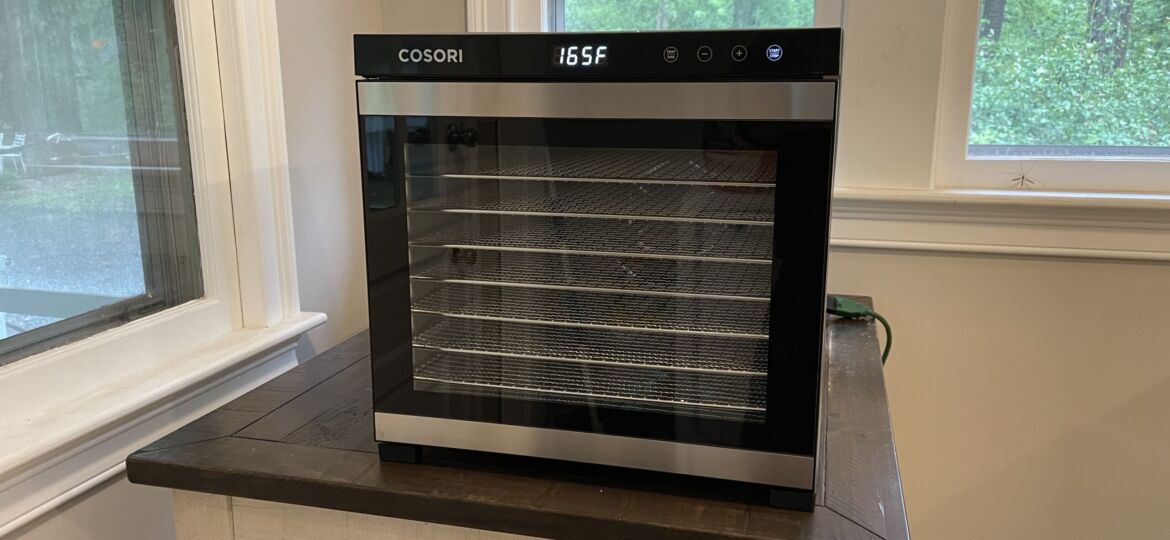 I wanted jerky, but the old Cabela's Dehydrator was dead so I went to the internet to find the best food dehydrator.  I found a TON of options for food dehydrators, but eventually landed on the Cosori Food Dehydrator.
We prefer to butcher our own deer and really process all our meat when possible.  Not sure how much beef and venison we have run through as jerky over the years, but our two preferred methods are in the smoker and the food dehydrator.  We have probably run a couple hundred pounds of jerky through our old dehydrator and tons of fruit that we'd chip and put into trail mix.
After a couple of batches from the steer we put up last fall, I like how the Cosori Food Dehydrator works.  We bought the 1000W with 10 drying racks which allowed for good size batches.  It is very simple to use and easy to clean and produces great jerky.
So keep reading, or don't, but I am going to keep writing and share with you everything you need to know about the Cosori Food Dehydrator.
COSORI Food Dehydrator Review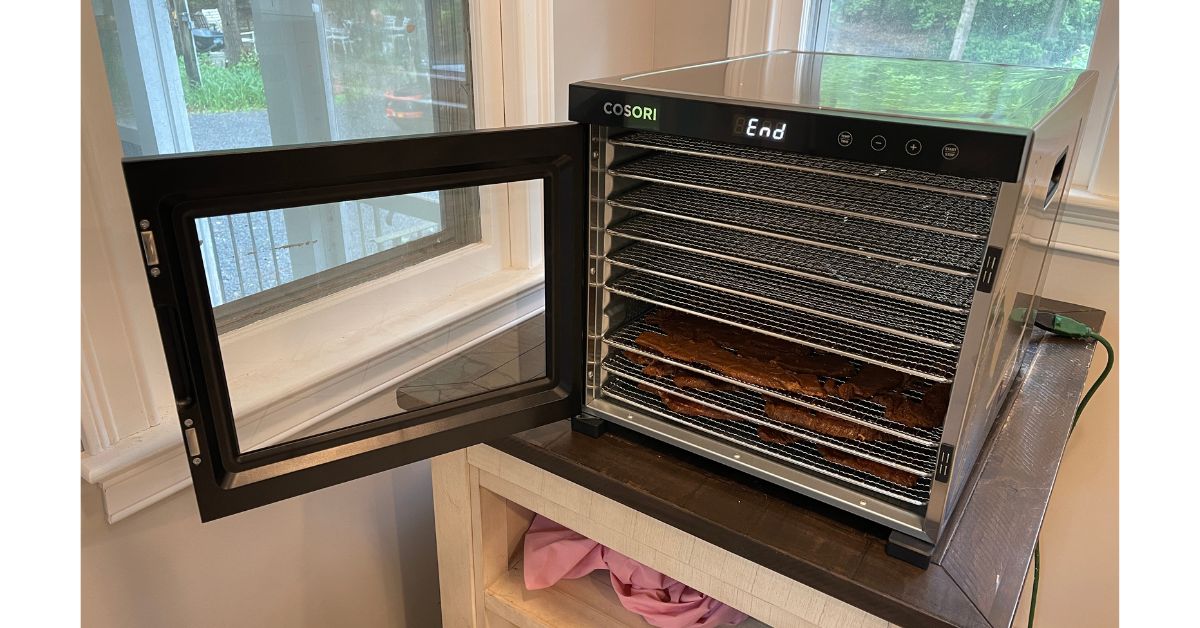 The Cosori Food Dehydrator is definitely a high-quality food dehydrator.  The design is great, even the smaller one is going to let you dehydrate a bunch of different foods, including fruits, vegetables, herbs, and of course  meats. The adjustable temperature range and internal timer with auto shut off, lets you set it and forget it when making healthy snacks and Dehydrating for Food for Storage. 
Now the question is, do we  like it?  Yup, it does its job well.  We love the easy temperature and time control.  The stainless trays offer a ton of space and clean up super easy.  It also offers a consistent drying across all 10 racks.  Plus, it's really quiet.  Really is a set it and forget it type food dehydrator.
Cosori Premium Dehydrator 10 Rack Specifications
Power Supply: AC 120V, 60Hz
Rated Power: 1000W
Capacity: 55 qt / 52 L
Temperature Range: 95°–165°F
Temperature Adjustment: 1°F
Time Range: 0:30–48:00 hrs
Dimensions: 16.9 x 21.3 x 16.4 in / 42.9 x 54.1 x 41.7 cm
Weight: 36 lb / 16.3 kg
Dehydrator Design and Capacity
The Cosori Food Dehydrator does look nice, not that we specifically care, but if you are into how it looks, I'd say it complements any kitchen. The 10 rack is not terribly big, but probably will not fit on a countertop with cabinets above.  However, I believe the 6 rack model will.  I love the front loading glass door and how easy the racks slide in and out.  It allows you to keep an eye on things with a quick glance.  One HUGE aspect that we love is the 360 degree air flow.  With our old dehydrator we'd have to rotate racks due to poor air movement.  The Cosori Dehydrator kept all ten racks consistent throughout the process.  
The stainless steel racks are a nice size and can hold over 7.7 pounds each.  The large capacity makes it great to only have to run a couple batches.  When doing jerky we like to get the slicer out the day before so the meat can marinate overnight.  Normally 2-3 batches do it for us, some to eat now and some to vacuum seal and freeze.  Another great benefit is cleaning time.  Wipe out the inside and stick the stainless racks in the dishwasher or easily hand wash.  
Temperature and Time Control
How awesome is it to be able to count on consistently 100% accurate temperature with an automatic shut off.  You can put whatever food you are dehydrating in the Cosori in the morning and then you are off to other tasks.  We still use the smoker a ton, but the food dehydrator makes it so much easier when you are not having to constantly fiddle with the temperature.  With the smoker or even the oven it is often hard to keep temperatures at the desired 165 degree or below temperature, but not with this dehydrator.  The Cosori Dehydrator has a temperature range from 95 degrees to 165 degrees and a timer that runs 30 minute increments up to 48 hours.  
Noise and Heat
Normally on a food dehydrator when we talk about effective air movement that brings the downside of it being noisy.  Not the Cosori Food Dehydrator.  Even though it is equipped with a large, energy-efficient motor and a rear-mounted fan, it is super quiet.  If it wasn't for the delicious smells coming out of it, you'd never know it was running.  Plus, it doesn't pump off tons of heat.  We'd run our old one outside in a screened-in porch because it would heat up the entire house, which I guess at times with high fuel prices, that might not be a bad idea.
Alternative Food Dehydrators
* Disclaimer:  I did not personally test the alternatives, but looked over reviews and researched them during our buying process.
Magic Mill Food Dehydrator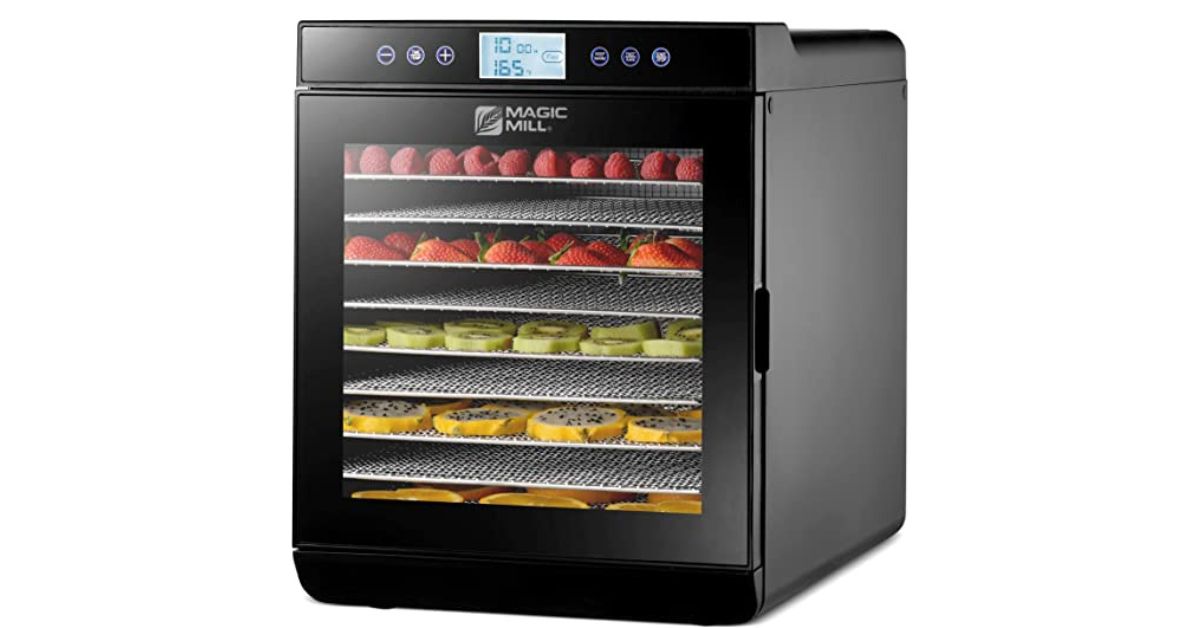 The Magic-Mill Food Dehydrator is another great option for a food dehydrator. As a potential alternative to the Cosori 10 Tray Food Dehydrator, this appliance has ten spacious trays also, providing good room and lowering the number of batches you have to run. It has an adjustable temperature range between 95 – 167 degrees with only a 24 hour timer.  Looks like it also has a rear mounted fan and should deliver consistent airflow. Additionally, the Magic-Mill Food Dehydrator includes a transparent door, letting you monitor the dehydrating process without opening. The Magic-Mill Food Dehydrator looks like it is a worthy contender in the world of food storage.
Colzer Food Dehydrator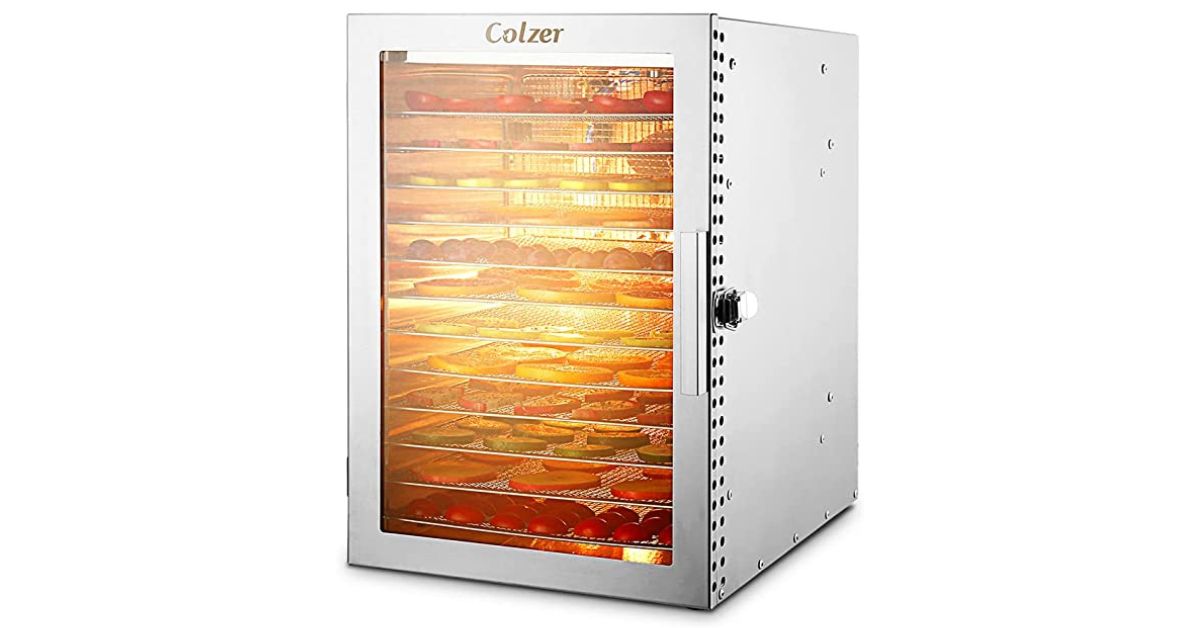 The Colzer Food Dehydrator is another alternative to the Cosori 10 Tray Food Dehydrator for those looking for a high-performance and versatile food dehydrator.   She comes with 12 adjustable trays, yup I said 12.  This is one of the highest capacity dehydrators without going full commercial.  Temperature range is slightly more broad at 68 – 194 degrees and also with a 24 hour timer.  Rear mount fan with a 1000-watt motor also is going to provide great air flow.  The Colzer Dehydrator does come with the forward opening glass door to allow you to monitor progress.
Cosori Food Dehydrator Six Tray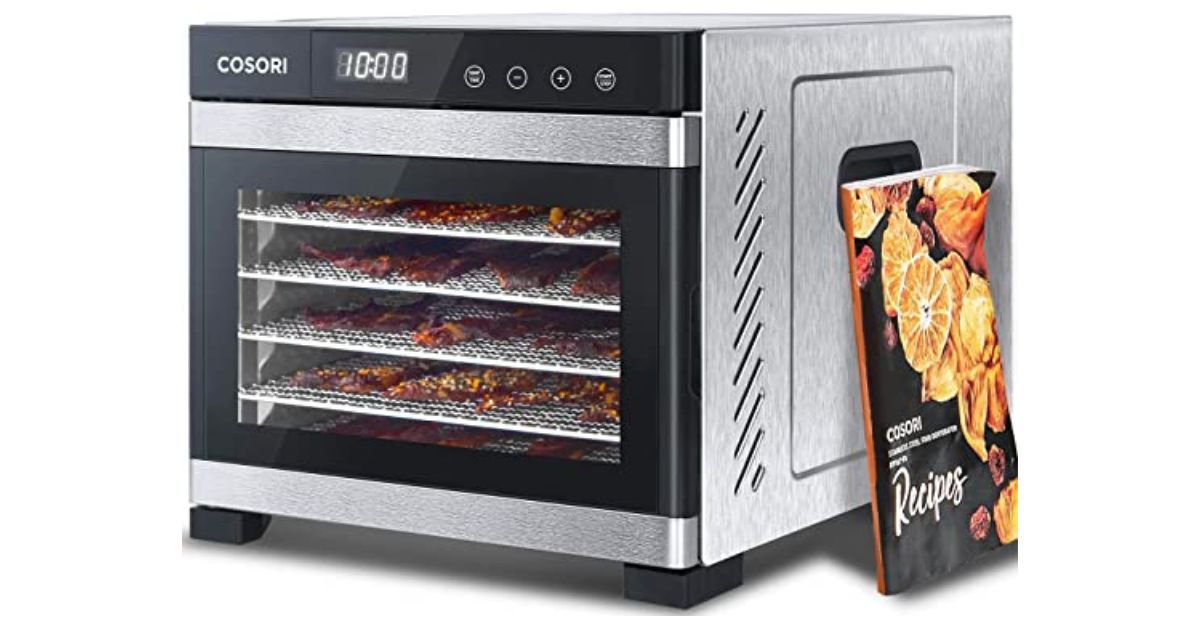 The Cosori 6 Tray Food Dehydrator is an ideal alternative to the Cosori 10 Tray Food Dehydrator if you are looking to save space but not lose quality.  As the name implies it only has 6 trays, which still offers decent drying space.  Everything else is basically the same except for a bit smaller motor, but it still has the 360 degree airflow like its big brother.  Really, the true value to choosing this over the larger model is space on the counter during use and perhaps storage room when it's not being used.
I guess to sum it up, my search for food dehydrators began with a burning desire to eat jerky to be honest.  My Cabelas unit worked great for 10 – 12 years and we had no problem with it, but when shopping these days Amazon is just too darn convenient.  So the winner in the battle for my next dehydrator was the Cosori Food Dehydrator.  It just checked all the boxes…  Great air flow, large capacity, adjustable (accurate) temperature range, glass door and quiet.
I did look at a ton of alternatives.  Got my list down to 4 choices, yes that is where the alternatives came from.  We considered the Magic-Mill, Colzer, and Cosori 6 Tray dehydrators. Each were great options and it could have come down to a coin toss really.  The Cosori 6 tray dropped off the list due to space, but the others would have been great choices.  However, the Cosori Food Dehydrator 10 tray was the winner and is now the teammate to our smoker when it comes to "Makin Jerky."
So, whether you're a Jerky Connoisseur (Me and my Kids) or a Jeky Master Cook (My Wife) the Cosori Food Dehydrator is an awesome unit.  The other models we looked at I am sure would be great, check them out for yourself if you'd like.  But if you want to get into the perfect dehydrator today… It's one click away!  Purchase your Cosori Food Dehydrator Here.