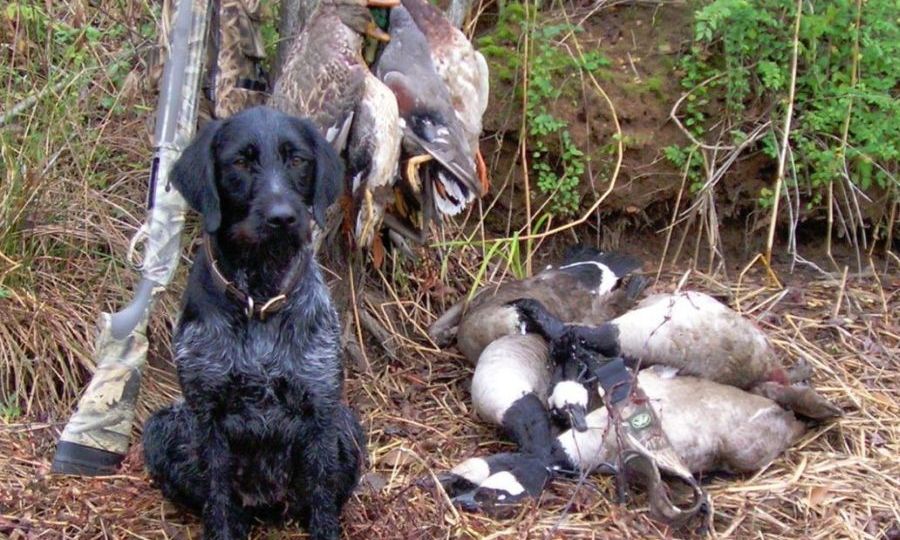 If you're looking for a versatile hunting dog, the first breed that comes to mind is the Deutsch Drahthaar.  Would everyone define a DD as a duck dog, maybe not.  However, if you've ever seen them work a marsh or goose field you'll definitely agree with me that they are awesome to have on any waterfowl hunt.  Image credit for the harvest above goes to Vom Moorehaus, link below to learn more about their kennel and breeding program.
When looking at a Versatile Breed the first thought that comes to mind should be what they're best suited to hunting and what your typical hunting season looks like. Hunting Waterfowl, Upland and Blood Tracking require very different skill sets. Obviously, some dogs are best suited for one discipline.  Even some Versatile Hunting Dogs are really better suited for one singular discipline rather than excelling at a couple.  
Some highly athletic dog breeds may be unable to maintain concentration on a long blood track. Or one with excellent scent-tracking may not be able to handle swimming and breaking ice on those frigid December duck hunts.
 I have been fascinated with the Deutsch Drahthaar ever since my first time hunting and then training with them.  These dogs seem to excel in every hunting scenario you put them in.  They are truly amazing to watch work.  
Often confused or compared with a German Wirehaired Pointer, the Deutsch-Drahthaar outperforms the GWP in every hunting discipline. This really boils down to the most significant factor of having an excellent hunting companion, Genetics.  So much emphasis is put on the German breeding standards that the DD genetic pool is much better than the GWP.  Not trying to disregard the GWP, simply contrasting an unregulated breeding standard to an extremely strict standard.
If you're considering purchasing a Deutsch-Drahthaar or if you just want to learn more, we've written this quick little article with fun facts about the breed. Read on to learn more about the Deutsch-Drahthaar and why we think it's the most versatile working dog out there.
Deutsch-Drahthaar Breed History
In the late 1800s, a group of breeders in Germany set out to develop a versatile hunting dog. Their goal was for the dog to be an all-around hunting dog, just as comfortable in the water as on land.
The origins of the Deutsch Drahtaar can be traced back to these breeds.
Stichelhaar:  German Roughhaired Pointer

Deutsch-Kurzhaar

: 

German Shorthaired Pointer

Wirehaired Pointing Griffon

Pudelpointer
This last breed, the Pudelpointer, is actually a mixed breed as well. The Pudelpointer came from the German Hunting Poodle and English Pointer. The decades German Breeders invested in creating these hunting dogs shows through when you see what they can do in the field.
By 1902, this group had created a unique dog breed: the Deutsch-Drahthaar. From there, the Verein Deutsch Drahthaar was established. The VDD is the end all be all authority on Deutsch-Drahthaars.  The VDD maintains the breed standards.  The breeding requirements set forth by the VDD are extremely strict, but fair, in order to maintain the genetic pool of the breed.  Drathaars may not be bred unless they meet performance standards as well as physical standards set forth by the VDD and regulated through regional certified chapters.
Physical Traits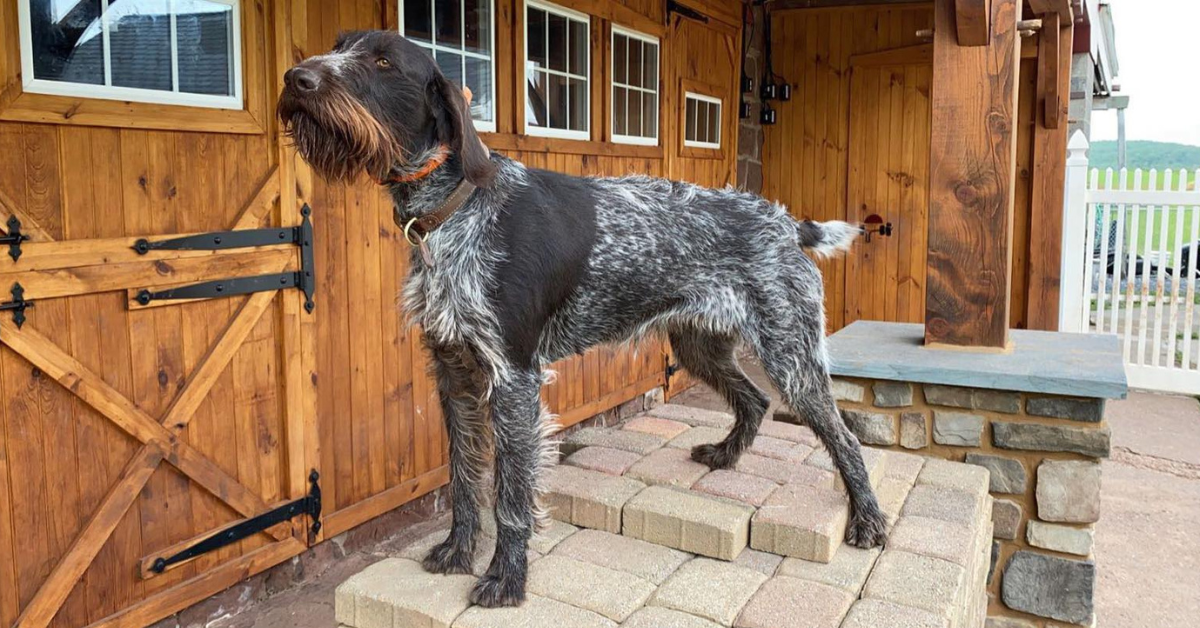 Deutsch-Drahthaars are medium-sized dogs. Their athletic build is necessary to be able to complete the hunting tasks required of them.  It is also important to remember a dog's overall size when thinking about the "body of work" they will complete over a hunting season.  A DD might be asked to pick up ducks all morning and then get a call that a buddy has a "Monster" deer down but he didn't get a good shot and now your DD needs to track a deer that evening.  Basically, being lighter and athletic will allow a DD to work hard over many hunting seasons, where much larger dogs show their years quicker.
Permitted Colors
Brown roan with or without patches.

Black roan, with or without patches.

Brown with or without white chest patch.

Light roan.
​​No other color is permitted.
​Size:  Height at Withers
Dogs: 24 to 27 Inches
Bitches:  22 to 25 Inches
Their fur is rough and coarse. This type of coat is to protect them from the weather and help eliminate injury and cuts.  Two traits that help identify the DD is their wiry beard and pronounced eyebrows.
Intelligence and Temperament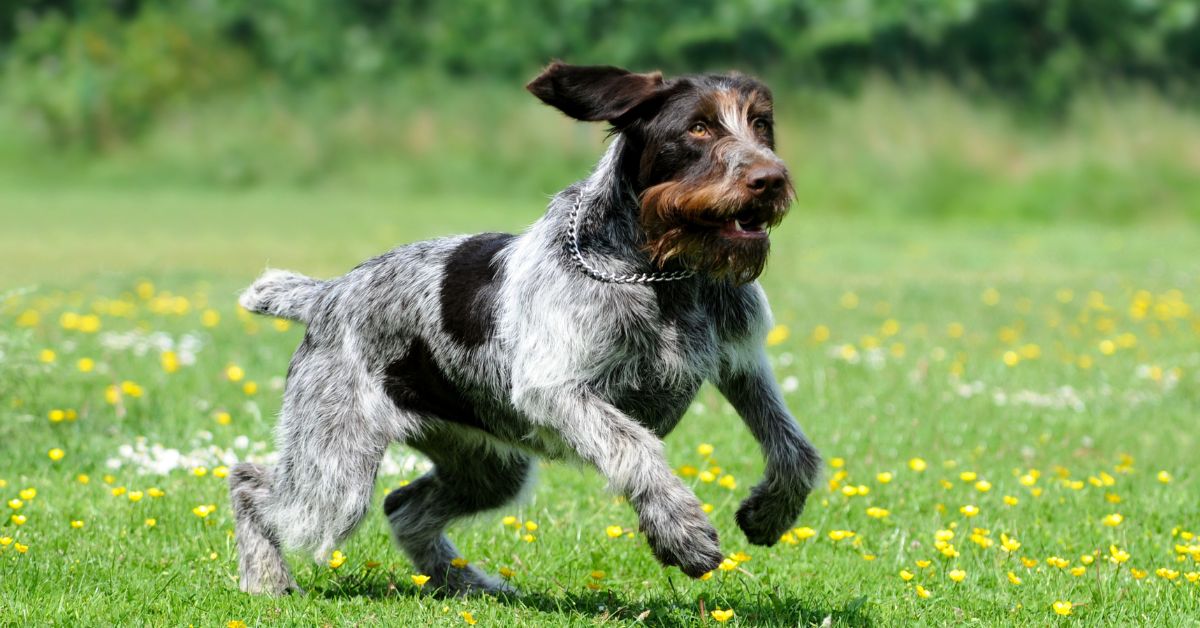 The Deutsch-Drahthaar possesses a calm eagerness when it comes to work.  The wide variety of tasks required of a DD means that they must be extremely intelligent and highly adaptable with the ability to concentrate.  Then comes athleticism and endurance.  These dogs are asked to work all day (and night sometimes) in potentially harsh conditions.  They also must be willing to obey and work as a team.  
Drahthaars make great family dogs as well.  They are kind in demeanor and know when to turn off the hunting switch when at home or in the kennel.  With any working breed however, they need to consistently be doing what they are bred to do.  The DD should only be owned by hunting families who are going to train them to the standards of the VDD.  If not given the correct outlet for their energy, this highly intelligent breed will start finding its own way to put superior genetics to use.
Learn More About Working Dogs
As I mentioned in the introduction, I am absolutely fascinated by the Deutsch Drahthaar.  Their high intelligence and versatility is amazing to watch.  In addition, you will not find a more versatile breed anywhere in the world.  A DD trained to the VGP level is going to excel at hunting waterfowl, upland birds and fur, tracking downed game and more.
If you are interested in learning more about the Deutsch Drahthaar, we'd be happy to connect you with breeders / owners that we know.  Just reach out to us on the contact page.
Otherwise, below are two great kennels whose owners are two of the most experienced DD breeders in the country.