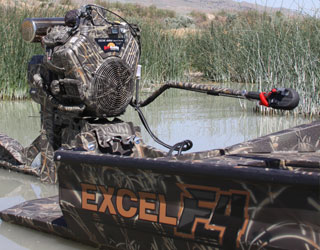 Discover the ultimate shallow water duck boat with the Excel Boats F4 Shallow Water series.
We've been chasing ducks and geese now for a good number of years, since the early 2000's.  We've hunted a handful of duck boats and I have sold both War Eagle and Excel Boats.  We absolutely know the feeling of hunting with an outboard boat and watching all  morning while the duck pile into shallow water holes up the marsh that we can't reach. It seems like over the years duck boats have evolved so rapidly and now there are so many options to choose from it gets confusing.  That is why I wanted to take a few minutes and share some thoughts on the F4 Shallow Water from Excel Boats.
Excel Boats:  F4 Shallow Water Review
After spending a bunch of time running and hunting the Excel F4 Shallow Water as well as getting tons of great client feedback I am confident in saying that these boats are one of the best, if not the best for hunting in almost any water condition.  I'd probably shy away from big open water but everywhere else this boat is lights out.  Now of course the F4 Shallow Water is designed to be packaged with a Mud Buddy Motor.  Really one of the HDR series is best.
If you keep reading we'll dive into some features, talk about performance and then you can see if you think it's a good duck boat or not.  Anyway, lets have a look at the Excel Boats F4 Shallow Water series.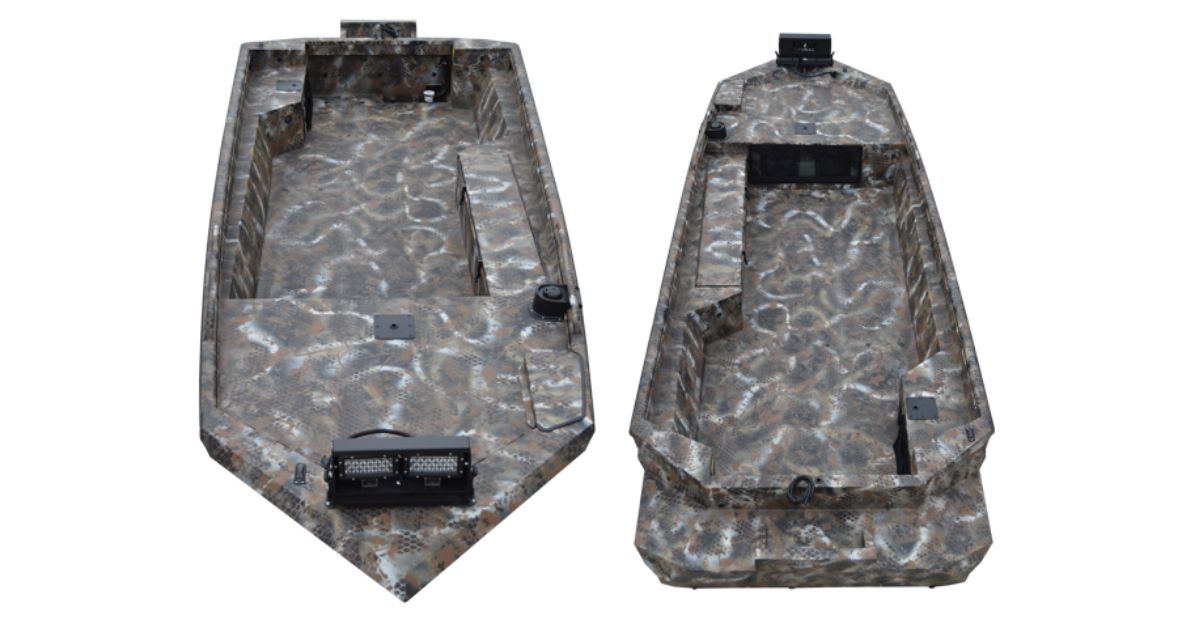 The Excel Boats F4 Shallow Water series is designed to get you into the shallow creeks, muddy marsh cuts and any other skinny water you can think of. Hunting in the marsh is where this boat excels in our opinion.   Really, the biggest benefit, especially here in the Northeast is to help you reduce competition from other hunters and get you to the best low pressure spots.  Not every hunter has an Excel Boat with a Mud Buddy, so those of you who do will be able to get into other areas that most can not. Its industry leading strength lets you beat the snot out of the boat and she'll just keep going.  When built with the .125 gauge aluminum option and the standard full length longitudinal 2×4 ribs these boats are tanks that float. 
Stand Out Duck Boat Features
Front Step Deck

17 Degree Transom

Bow Rails

Full Flotation

Triple Taper Chine

Full Flat Floor

Front Deck Fuel Tank Storage Area

Welded-in and Riveted Full Floors

Longitudinal Full Length 2″ X 4″ Ribs – 6063 Alloy

Recessed Control Panel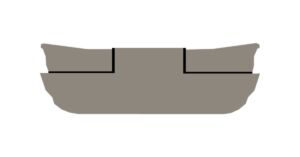 SNE Excel Boats Recommended Options
.125 Aluminum Upgrade

Rear Hand Rails

Interior Superliner Coating

LED Headlights

Interior LED Lighting

Built-In 11 Gallon Fuel Tank

Spud Poles

Gunnel Rail Mounting Track

Mud Buddy HDR Surface Drive
So then the question is… Is the F4 Shallow Water by Excel Boats worth the price tag?  It really depends on how you hunt to be 100% honest.  If you hunt a few times a year and don't get into shallow water, buy something in the value range like a Tracker.  However, if you are really a duck hunter who gets after the birds, this boat is for you.  It is built extremely well and will hold up to the rigors of a long, ice filled duck season.  Things that we love about the F4 Shallow Water is the ability to run so shallow with the Mud Buddy HDR 40 Anniversary Series or HDR 5000.  It's a small feature, but the spud pole holders work out great for us.  We normally hunt from the boat with a pop-up blind so not having to double anchor is super convenient.  Having the fuel tank under the front deck is a great option, to us it's better than having the portables in the boat.  Front and back rails are another good option.  The front rails allow you to put that bungee cargo netting over a stack of decoys to keep them in the boat if needed.  The rear float pods or steps is a great spot to hunt your Labrador Retriever.  Finally, those front LED light bars are the brightest I have ever seen.  Makes getting to your spot and setting decoys so much easier.
If you ever want to call with questions or get a price for an Excel boat in Tax Free Delaware you can always reach me at my 9-5 job.  Office number:  (302) 945-9690.  Ask for Scottie P.